The island of Phuket is one of the most popular Muay Thai training destinations in the world, so unsurprisingly, there are a lot of gyms on the island. Being as there are so many gyms to choose from, it is likely a difficult task in choosing the right gym for you. Certain gyms are good for certain people, so there is no way to really compile a list of the best Muay Thai Gyms in Phuket. The best I could do was to compile all the information available into a single place so that you can make an informed decision for yourself. When choosing a gym it is probably a good idea to start by choosing a city you would like to train from and narrowing your search down from there.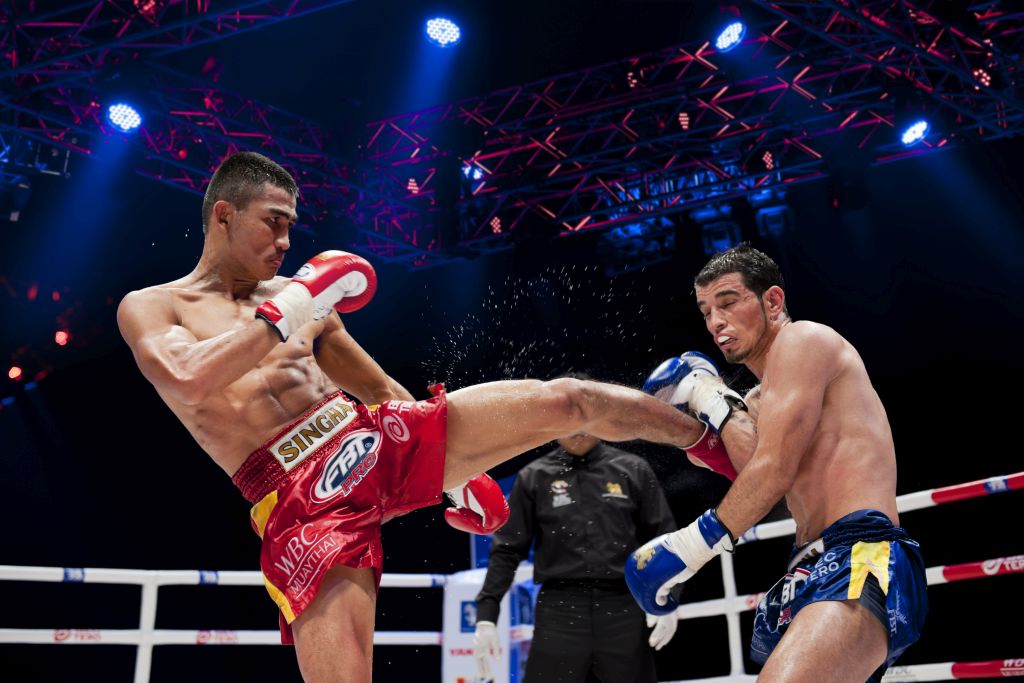 CHALONG GYMS
Training in Chalong Bay seems to be for the more serious Muay Thai student. There is much less nightlife in the Chalong area then there are in the more popular Rawai and Patong areas, so it is easier to stay focused on the training at hand. That is not to say that there is nothing in Chalong, on the contrary, it is home to some of the top cultural attractions on Phuket, including Big Buddha of Phuket. The majority of the gyms in Chalong are focused on a single road, making for a very Muay Thai oriented environment.
DRAGON MUAY THAI
10/3 Moo 5, Soi Ta-iad, Chalong
Online: www.phuketdragonmuaythai.com
PHUKET TOP TEAM
Moo 1, Soi Tadied, Chalong, Phuket
Online: www.phukettopteam.com
SUWIT MUAY THAI TRAINING CAMP
15 Moo 1 , Choa Fa Rd, Tumbon Chalong, Ampur Muang, Phuket, Thailand, 83000
Online: www.muaythai-camp-thailand.com
TIGER MUAY THAI & MIXED MARTIAL ARTS
7/6 Moo 5 Soi Tad-ied, Ao Chalong, Muang Phuket Thailand 83130
Online: www.tigermuaythai.com
KATA GYMS
Kata Beach is one of the most family friendly cities on Phuket. It isn't a real popular place to train Muay Thai, but there are a few gyms in the area. Kata Beach is more widely known for it's amazing beaches, restaurants and shopping. The city is all pretty compact, so you can practically walk everywhere.
CHANG MUAY THAI GYM
116/9 Kok Thanod Road, Kata Beach, Phuket
Online: www.changmuaythai.com
KATA BEACH PHUKET MUAY THAI CAMP AND GYM
82/5 Moo 4 Patak Rd. Kata Beach
thaiboxing_gym@yahoo.com
PATONG GYMS
Patong Beach is known as the party center of Phuket due in part to the famous Bangla Road. Despite it being a city full of distractions, there are quite a few gyms there. It is also home to the Bangla Boxing Stadium which is a popular place to watch live Muay Thai fights.
MAXIMUM FITNESS & COMBAT CENTRE
CNR Thaweewong and Sawatdirak Rd, Loma Park, Patong Beach
Online: www.maximumfitnessphuket.com
PATONG BOXING GYM MUAY THAI TRAINING CAMP
707 Patak Road, Karon Cliff, Phuket, 83100
bowwannida@hotmail.com
SINGPATONG SITNUMNOI BOXING GYM
29 Hasip Pee Road, Patong Beach, Kathu District, Phuket
Online: www.singpatong-sitnumnoi.com
RAWAI GYMS
Rawai Beach is the center of the Muay Thai Training universe when it comes to the island of Phuket. It seems like every month or so a new gym is popping up somewhere in the Rawai and Nai Harn area. The atmosphere on this part of the island is pretty laid back and makes for a very welcome training environment. It also helps that the area is home to Nai Harn Beach which is one of the best beaches on Phuket.
LION MUAY THAI GYM
Moo 7, Soi Samakkee 2, Saiyuan Road, T.Rawai, A Muang, Phuket, Thailand
Online: www.lionmuaythaiphuket.com
PHROMTHEP CAPE MUAY THAI CAMP & FITNESS TRAINING GYM
91 Moo 5 Viset Road Road, Rawai
info@thailandmuaythai.com
RAWAI SUPA MUAY THAI
43/42 M.7 Soi Sai Yuan, Rawai, Phuket
Online: www.supamuaythaiphuket.com
SINBI MUAY THAI
100/15 Moo 7, Sai Yuan Road, Rawai Muang, Phuket 83100
Online: www.sinbi-muaythai.com
THAILAND CAMP
91/19 Moo 6, Viset Road, Rawai, Muang Phuket Thailand 83100
Online: www.thailandcamp.com
KAMALA GYMS
Kamala is just north of Patong and although you are really close to the bustling tourist center, you won't feel like you are. Although it is a bit pricier than the areas south of Patong Beach, Kamala is a great place to stay and train. It also doesn't hurt that Kamala Beach is one of the top ten beaches in Phuket.
JAZZBOXING @ KAMALA MUAY THAI
Nakanai Rd, Tambon Kammala, Amphoe Kathu, Chang Wat Phuket 83120, Thailand
Online: www.kamalamuaythai.com
THALANG GYMS
Thalang is a very quiet part of Phuket Island and is a good place to train without all the distractions present in the tourist areas of the island. However, you are limited in your choices as there are only a couple of gyms to choose from.
CHERNGTALAY MUAY THAI & BANDASAK GYM
Cherngtalay Village, A. Thalang, Phuket
admin@cherngtalaymuaythai.com
SUMALEE BOXING GYM
234 Moo 3, Soi Hua Tha, Sri Sunthon Road, Amphur Thalang, Phuket, Thailand. 83110
Online: www.sumaleeboxinggym.com
PHUKET CITY GYMS
If you really want to get away from the distractions that Phuket has to offer, you may consider training in Phuket City. Although it has it's own charm, there are very few tourist type activities that will distract you from your training.
SIAM MUAY THAI ACADEMY
71/6 Moo 5, Soi Paniang, Yaowarat Road, A. Muang, Phuket 83000
Online: www.kamalamuaythai.com
GYMS NEAR PHUKET
Although there are plenty of very good Muay Thai Gyms on the island, there are also a few quality gyms that are in close proximity to Phuket.
COMBAT 360X MMA, STRENGTH AND CONDITIONING GYM
Khao Lak
Online: www.combat360x.com
K.Y.N. MUAY THAI BOXING GYM
Koh Yao Noi
Online: www.phuket-krabi-muaythai.com
RAWAI MUAY THAI
Khao Lak
Online: www.rawaimuaythai.com
HELP US OUT
To keep this resource up to date, I need a bit of help. The island of Phuket is very large and there seems to be new Muay Thai Camps popping up every day. If I have missed anything on this list or one of the gyms here is no longer open, Let Me Know.
Also, if you would like to contribute to this site by writing a review for one of the gyms on this list, you can contact me here.