Once upon a time, Banana Beach was one of the last unspoilt Phuket beaches, but lately the secret has apparently gotten out and the tourists have flocked here in droves. It is also known as Banana Rock Beach and despite the rise in tourism, the beach is still stunningly beautiful.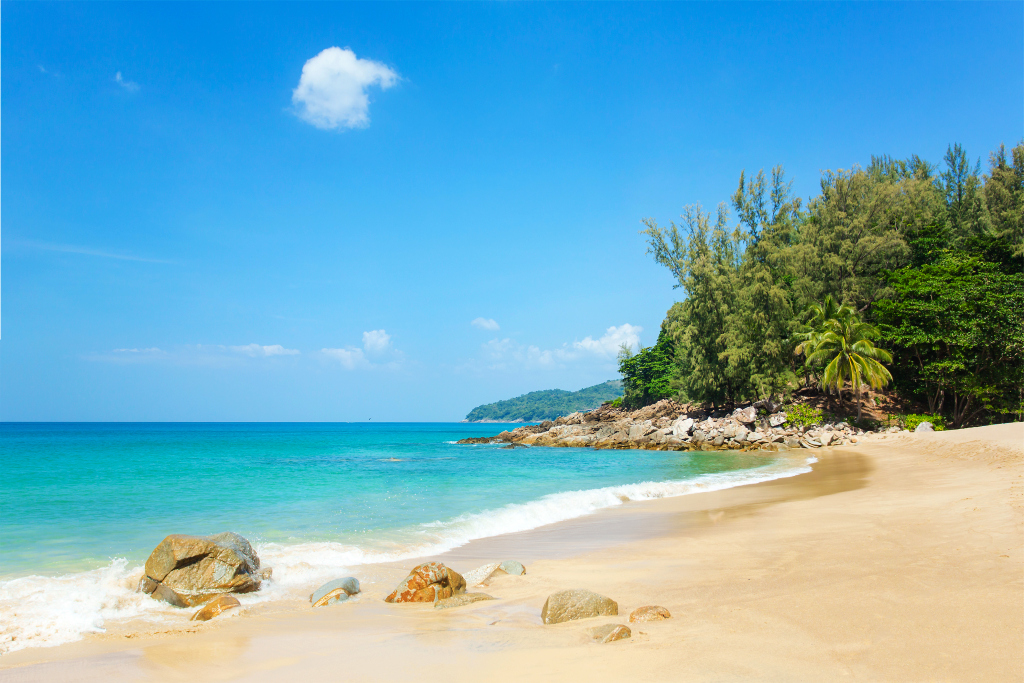 The beach is white powdery sand that slopes gently into the sandy seabed. The entire beach is ringed by coconut palm trees and there are rock formations at either end of the beach and down the middle. The water is clean, clear and is great for swimming.
There is a small restaurant along the south end of the beach that serves Thai food although it is a bit more costly then you would expect. You are paying a premium for the views of this magnificent beach and the Andaman Sea.
Come here a few years ago and you would have a private paradise that was almost too good to be true, but alas, Banana Beach has fallen victim to tourism, albeit not too bad. Despite the fact that you can no longer claim the entire beach as your own, Banana Beach still offers a grand tropical experience that few other beaches can offer. It is a place that you should go out of your way to visit, a great place to get away from the over-development that much of the western coast suffers from and visit a locale of true natural beauty.
BEACH ACTIVITIES
There is very little in the way of beach activities at Banana Beach, but this helps to preserve the natural beauty of the place. You can rent loungers for about 100 baht for the day. There is some good snorkeling around the many rock formations along the beach.
GETTING THERE
Travel along the road north from Layan Beach. As you pass Trisara Resort, Banana Beach is on your left hand side. You will need to head on down through the jungle in order to reach this beautiful Phuket beach, but it is definitely worth the effort. Park your car/bike along the road and just head down the path.